PCIX64, PCI Bus Isolation Extender Specification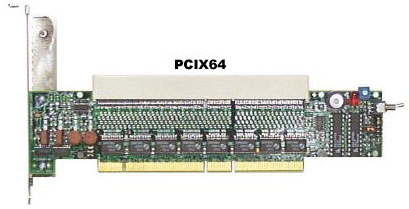 PCIX64 is a 64 bit PCI Bus Isolation Extender that allows user to test the PCI add-on boards quickly without having to power the system down each time. It is especially designed to save valuable labor and time in production testing environment. It is also a great tool for engineers during product development while many changes and testing are required. It provides total power and signal isolation between the motherboard and the board under test. It can be controlled manually by an on-board toggle switch or by external TTL signals. Besides saving time for testing, it also protects the motherboard from damages that can be caused by bad I/O boards under test. The PCIX64 is designed with many years of field experience and real user suggested features. It is built with quality and state of the art components. The PCIX64 is made in USA.
Product Features:
Total power and signal isolation.
No disturbance to the system bus during bus isolation and reconnection.
Less than 500ps signal delay (isolation buffer + trace delay).
Minimum voltage drop.
Single toggle switch operation or external TTL software control.
Allows external input voltage margin and current measurement.
Over / under voltage and over current protection.
Pluggable power line fuses for easy replacement.
Short circuit sensing logic with auto power shut off.
System power on, green LED indicator.
Isolation power on, green LED indicators.
Two-tone audible alarm for normal operation and short circuit condition.
Flashing red LED to indicate bus connection and disconnection.
Supports low cost straight wearout extender.
Easy adjustment of the width of the regenerated reset pulse and timing relative to bus signals.
Optional Header pins for logic analyzer hook up, with color tubes to indicate power pins.
Optional connector at right angle to the extender connector.
Quality multilayer construction.
Product Specifications:
Bus: PCI (Peripheral Component Interconnect), 64 bit bus.
Voltage: +5V with 4 amp pluggable fuse and short circuit sensing, +3.3V with 4 amp pluggable fuse and short circuit sensing , +12V with 1.6 amp pluggable fuse and short circuit sensing, -12V with 1.6 amp pluggable fuse.
Control: Single toggle switch or external TTL signal and power control.
Signal Delay: Less than 500 picosecond (250 picosecond max. through the buffer IC).
Mounting: Slot offset bracket..
Environment: 0-60 degree C (operating and storage).
Dimension: Length 8.75 inches, Height 2.3 inches, Width 0.6 inches (Dimension not including the mounting bracket).
Product Options (free of charge):
-5 for 5.0 VIO version.
-3 for 3.3 VIO version.
-T for an additional PCI connector at right angle to the extender (mounted on solder side A).
-H for header pins for scope or logic analyzer probe hook up, on B side of the extender.

Copyright ©2002 PMASIA.com ™ Your Business Connection in Asia
All Rights Reserved.